Our new game Oh No! Ninjas! is released and ready for you to play today! We hope you are enjoying this free to play game. There are lots of accessories to choose from and we wanted to showcase a few of them.
---
Laser Eyes
Due to a software glitch, you can only activate these glasses by shouting "PEW! PEW!" Put these on to quickly analyze those Ninja words while looking like a new and improved Jordy.
---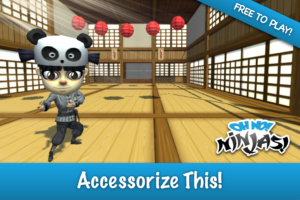 Panda Hat
AWWWW! I had something for this, but this hat is so adorable that I forgot it.
---
Wiz Kid Glasses and Wizard Hat
These will make you a Word Wizard. No seriously. Put on a robe and wizard hat and proceed to perform magic tricks.
---
And that's all the accessories we are showing today though there are many more to unlock and enjoy within the game! Hope you enjoyed the sneak peak if you have yet to unlock these unique accessories!
If you want to keep up with this blog and our studio and see what else we are up to follow @BlotInteractive on Twitter or like us on Facebook.
Thanks for reading! ?