Chat Fu is a game about fooling your friends on Facebook.
In a special interface available for free on the Facebook app store, Chat Fu players fight in "chat battles"against their Facebook friends, tricking them into saying certain words. The twist? Your friends might not even know they're playing a game! To the other person, Chat Fu conversations appear in the same private messages you use on Facebook.
In the Chat Fu battle above, the player (me) is trying to get their friend ("ChatFu") to say the word "tonight".
Here's how the Chat Fu battle above appears to your friend: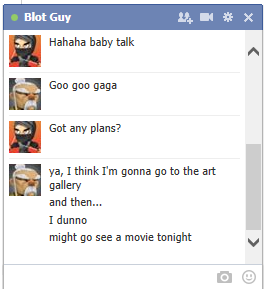 Just like a normal Facebook convo, right? They'll never even know they got tricked into saying the word – unless you brag about it to them, of course!
Still curious about how Chat Fu works? Check out this handy slideshow.
Stay tuned for the full game releasing on Facebook this summer!
Want to hear more about Chat Fu and other Blot games? Subscribe to our monthly newsletter.
« GIF FU: Rake Trap Chat Q: Meet Brandon the Associate Producer »